INTO THE CARPATHIANS

(Czech Republic)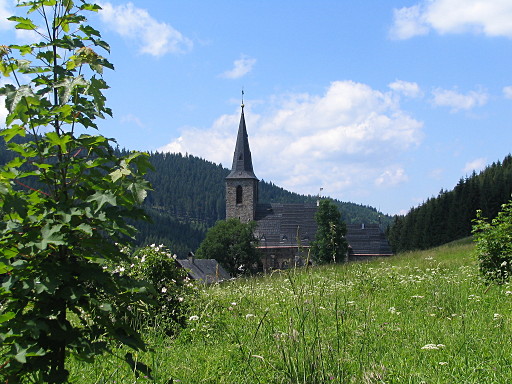 "The few hundred miners who picked, hammered, and drilled for gold in these hills during the nineteenth century and their families must have been a devout and industrious folk, because they also erected a more durable monument to God: a solid, Neo-Gothic temple of gray granite blocks that stands tall and proud near the road. But it too is still, the only vibrancy seeming to come from a bushy cemetery nearby, where several bronzes of Christ on the Cross inspiringly ascend from the grass, several headstones proudly honor graves with photos and German or Cyrillic inscriptions, and a tall white statue of a classical antique soldier diligently guards them all. And tonight, after darkness has fallen, the only light in the houses below comes from two dim red glows in two cobwebby windows, as from two evil eyes in a faded yellow building that seems big enough to have once been a hotel. Welcome to the "Ghost Camp." Stephen King, anyone?"
— page 184, Into the Carpathians, Part 2, © Alan E. Sparks.