INTO THE CARPATHIANS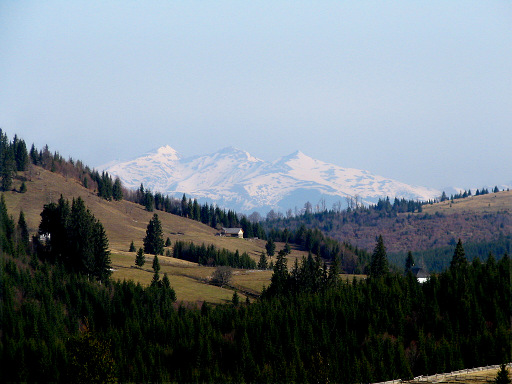 "Daylight brings to the hamlet of Piatra Fântânele a grand prospect of rolling hills mottled by patches of evergreen and meadow with a backdrop of spectacular snow-capped peaks—the Calimans to the south and the Bargau Range (Munții Bârgăului) to the north. The view is breathtaking, and it's natural to conclude that this quiet village is destined to become a resort. In fact, the process has already begun. At the bottom of a high hill immediately adjacent the village, a chairlift begins its ascent straight up a steep white slope. A couple of trim pensiunes are popping up along the winding highway on the outskirts of the village proper, and just down the road looms a large complicated stoney structure at the end of a parking lot, an establishment designated 'Hotel Castel Dracula.'
"Straddling the border between Transylvania and the historical region of Bukovina (the 'land of beech trees'), this mountain pass is called the Tihuţa Pass in Romanian. In Hungarian it is called the Borgo Pass, and this is where John Harker is picked up and whisked away to Dracula's castle in a carriage pulled swiftly by four black horses."
— page 91, Into the Carpathians
© Alan E. Sparks